Web applications and Web sites, adds on Internet, CEO optimisation. 
Black Cat Web Education school organizes trainings for every 7 to 77 years, as well as for legal entities who want to invest through their training in their employees and improve their positioning in the business they are dealing with.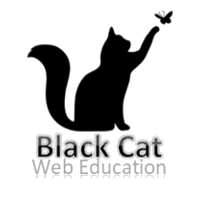 For training aimed at citizenship training is organized on the principle of one student - one teacher, online, using some of the applications for connection and screen sharing.
Programming is one of the most perspective occupations of today, and a very challenging area for anyone who wants to be programming and working with computers as a profession. It is an area that is constantly evolving and requires constant improvement of the skills and learning of the new one.
Our lecturers have many years of experience, they are active in many programming projects and they are here to introduce you to the world of programming in the fastest way, to upgrade your knowledge or to open up a new opportunity for you to work.